Project background
Even after six years since the beginning of the Syrian conflict, Syrian refugees who fled to the neighboring country, Jordan, have been leading a difficult life.  At the same time, various social problems  have occured in Jordan due to the influx of refugees. This includes an increased rent for housing and  decreased employment. These situations are becoming a large burden on the life of the poor in Jordan.  In order to improve these situations, NICCO has implemented support activities such as distribution of household materials and mental care with a maximum consideration for fairness between the Syrian refugees and the poor in Jordan. 
About the project
NICCO has been engaging in humanitarian support activities for Syrian refugees and Jordanian impoverished people living in Zarqa. Our activities have also been expanded to Zattari refugee camp since August 2014.
1.  Distribution of relief goods such as food and supplies

Food coupons are distributed to Syrian refugees and the poor in Jordan.  As the coupons can be utilized for purchasing food and daily commodities at supermarkets, they serve for the improvement of life environment among Syrian refugees who have difficulty finding employment opportunities.  In the fiscal year 2016, the distribution of household materials has been made for 22,160 people (6,343 households).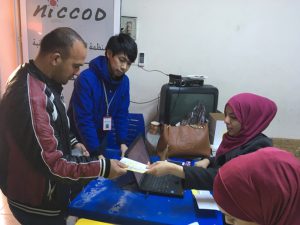 2. Provision of Community Space
Approximately 80 percent of Syrian refugees live in Jordan, not in refugee camps but in the local community. Having fled to a foreign country, they confront many problems such as despair, loneliness, stress, anxiety for the unknown future, child labor and premature marriage caused by poverty, domestic violence, bullying etc. 
NICCO also has provided a community space in the surrounding area of Zarqa City, the western part of Jordan.  We have been organizing workshops on mental care, embroidery, craft work, English classes, and seminars of useful information such as health and legal consultation.  The space is not only a place for them to get together in peace but also to participate in positive activities for the future through workshops on education and development of skills. 
2-1.  Program for Children (Psychosociological workshop)
The purpose of this program is to face trauma and stress caused by conflicts through drawing, clay modeling, sports, day trips, and dramas to prevent PTSD (Post-Traumatic Stress Disorder).
2-2.  Program for Empowerment of Women
This program is to support constructive activities for the future by providing workshops for embroidery, knitting, and other activities related to enhancing skills such as English and computer use.   A women's group called "JORIA" was born from this program that now generates income through sales of embroidery and knitting. 
2-3.  Informative Courses and Interactive Programs
The program aims to reduce stress in the inconvenient life of refuge by providing the information useful for a life as a refuge. This program provides the opportunity of interaction among participants for increased ease.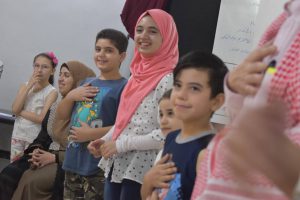 3. Counseling by Specialists
A team composed of psychiatrists, psychologists and social workers provides careful counseling in accordance with the individuals situation and care for those who suffer from trauma caused by the experience of conflict and the stress in the life of refuge.